Compiled by Lisa Phillips of OpDeepState.com
UPDATED April 5, 2018
Cambridge Analytica's Fossil Fuel Connections
Several key directors at Cambridge Analytica's parent company have direct connections to the fossil fuel industry, records show.
by Nafeez Ahmed
The world has been reeling in the wake of whistleblower revelations about how Cambridge Analytica, the notorious data analytics firm, used information from third party apps to compile profiles on 50 million Facebook users.
Much has been written about the scandal, and the firm's ties to right-wing benefactor Robert Mercer, who invested $5 million into the company. Mercer has funded a wide range of conservative campaigns and causes, including Breitbart. Through the Mercer Family Foundation, he has funded a wide network of climate denialist groups including the Heartland Institute, the Manhattan Institute, the Media Research Center, and the Oregon Institute for Science and Medicine.
But several key directors at Cambridge Analytica's parent company, SCL Group, also have close ties to the fossil fuel industry, according to business records filed with the British government, fossil fuel company presentations obtained by Motherboard, and employee LinkedIn pages.
The connections show that, yet again, there is often crossover between fossil fuel interests and politically focused firms. SCL Group and Cambridge Analytica did not respond to requests for comment for this article.
Big Coal
Cambridge Analytica is an offshoot of British company SCL Group, a former UK Ministry of Defence contractor which retains close ties to the British Foreign Office (FCO) and other elements of the UK political and financial establishment. SCL Group set up a subsidiary called SCL Elections in 2012 which, in turn, set up Cambridge Analytica as an incorporated venture with Mercer.
Media coverage to date has understandably focused on the persona of Cambridge Analytica CEO Alexander Nix, who is a director of the firm's UK alter-ego, SCL Elections.
British company records, however, show that SCL Elections had another director, Christian Patrick Teroerde, who joined the company just months after it was incorporated. Teroerde went on to hold a one-year director role at SCL Elections from February 2013 to 2014.
Teroerde's position coincided with a simultaneous role he held at another company, Hanson Asset Management, where he has been co-founding managing director since 2010.
Hanson Asset Management was set-up to manage the wealth of the Hanson family, whose fortune was built under the leadership of the late Lord James Hanson—a Thatcherite industrialist who donated millions to the Conservative Party. Tereorde works directly under Lord Hanson's son, Robert, who chairs the board.
One of the major contributors to Lord Hanson's wealth was the burgeoning American coal industry.
Among Hanson's major acquisitions, for instance, was the Peabody Holding Company, the largest coal producer in the United States in the 1990s. The firm was sold and grew into Peabody Energy—now the largest private-sector coal company in the world.
In April 2016, Peabody filed for bankruptcy due to plummeting coal prices. Trump's election victory, which Cambridge Analytica helped target ads for, turned Peabody's imminent collapse around. One day after Trump's win, Peabody shares surged by over 50 percent, and six months later the global coal giant came out of bankruptcy.
Cambridge Analytica's connection to Hanson's wealth appears to have been close during that founding year. The company correspondence address for Teroerde's directorship at SCL Elections was the same address as Hanson Asset Management, meaning he essentially fulfilled his duties to the company from the Hanson office.
Big Oil
Cambridge Analytica has other ties to fossil fuel interests. Julian Wheatland has been chairman of Cambridge Analytica parent company SCL group since 2009. During this period, Wheatland has simultaneously held a number of other directorships in companies with overlapping energy and military interests.
One such company is Phi Energy Group, a short-lived oil venture where Wheatland was a director from 2014 to 2016. According to an internal company presentation deck, Phi Energy's focus was "exploring opportunities" in Libya, the US, Africa and Eastern Europe.
Image: a Phi Energy presentation
Wheatland is listed in the document as Phi Energy Group's Chief Finance Officer; he also lists that position on his LinkedIn page. The document identifies the companies that Phi Energy worked with: Shell, Noble Group, Eni, Esso, BP, Statoil, Tamoil, Total and Saras—a veritable who's who of international oil majors.
Since 2009, Wheatland has also been Chief Executive of Hatton International, a company about which almost no public information can be found. The Phi Energy document shows, however, that Hatton also overlapped with fossil fuel interests.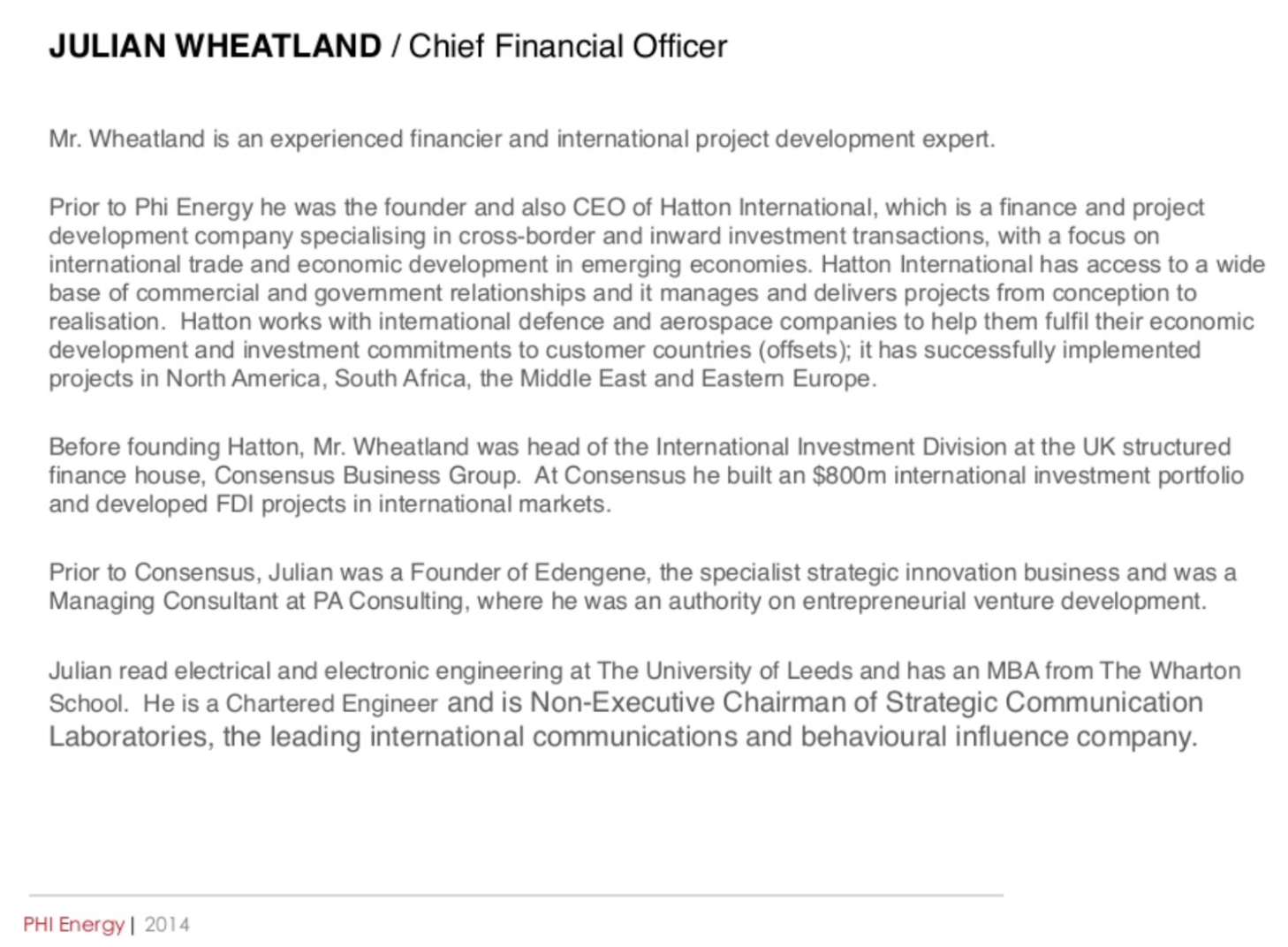 Phi Energy's presentation deck lists its then-Chief Commercial Officer as Tarick Kreimeia, who is described as "a Director of Hatton International" working under Wheatland.According to Kreimeia's LinkedIn
profile
, he was a "non-executive director" of Hatton International from 2012 to 2016. That profile not only refers to Hatton's work "with defence and aerospace companies", but further describes how Hatton "supports client companies, particularly in the energy industry, to develop financing strategies that will deliver the strategic objectives and help bring new products and propositions to market."
The regions where Phi Energy/Hatton's energy work was carried out include Iraq and Libya, both subjected to US-UK military interventions.
Kreimeia's Phi Energy bio, for instance, depicts him as a key player in negotiating refining agreements in key Middle East countries, specifically assisting major EU refineries in negotiations with the Libyan National Oil Company (LNOC), the Iraqi State Oil Marketing Company and the Kurdish Regional Government (KRG).
Climate denialism
An investigation by DeSmogUK reveals that Cambridge Analytica is also embedded in a web of power denying climate change. Besides the Mercer funding, Cambridge Analytica has numerous ties to Vote Leave, the official British campaign to leave the European Union, which was chock full of politicians who rejected climate science.
Vote Leave was run by Dominic Cummings, a former head of strategy for the Conservative Party. The Vote Leave campaign paid £3.5m for Facebook profiling and advertising to AggregateIQ, a Canadian firm which had secretly licensed its data tools to SCL Elections.
Cummings is also connected to SCL Elections and Hanson Asset Management director Patrick Teroerde, through Lord Hanson. From 1999 to 2002, Cummings had run the anti-EU 'Business for Sterling' business lobby, founded by Lord Hanson. Neither Teroerde nor Cummings could be reached for comment.
The pro-fossil fuels agenda of the Vote Leave campaign was no secret.
One senior Vote Leave committee member, Andrea Leadsom, currently Leader of the House of Commons and previously energy and climate minister, admitted to questioning climate change science when she first got her ministerial job. During the Brexit campaign, she was aligned with a pressure group agitating for more fossil fuels and less renewables.
Two other Conservative politicians who supported Vote Leave, Owen Paterson and Matt Ridley, are "well-known allies of the UK's most prominent climate science denial campaign group, the Global Warming Policy Foundation," according to DeSmogUK.
And so we come full circle. Cambridge Analytica's political associations with the Trump campaign in the US, and the Brexit campaign in the EU, overlap directly with the firm's ties to major oil and gas companies and anti-science campaigning to deny climate change.
The story of this firm's massive breach of Facebook to manipulate public opinion is not just about the increasing impunity of giant technology companies, nor their capacity to allow nefarious entities to interfere in our fragile democracies from outside.
It is about how technology has been used to subvert democracy from within—not by foreign powers—but by increasingly unaccountable corporate power, including those tied to the rampant exploitation of oil, gas and coal. It's power that continues to hold great sway over governments on both sides of the Atlantic.
**
UPDATED March 30, 2018
Jordache Group – the Nakash Brothers Win One and Lose One…
The Jordache Group, a holding company for the Israeli Nakash Brothers Joe, Rafi and Avi, signed a deal last week to buy the historic commercial property in Washington "The Bond Building".  The building, which was put up in 1901, is only two blocks from the White House at 14 New York Avenue and they reportedly paid approximately $100 million to have the President as their neighbour.
The property has about 175, 000 square feet of commercial space (16, 000 square meters) on eight floors, plus parking.  That approximates to a price of about $600 per square foot if the reported numbers are correct.
The building is currently occupied by the US Department of Justice on a leasing expiring next year, though it is understood to have now been extended for another fifteen years.
Read more:  Jordache Group – the Nakash Brothers Win One and Lose One…
**
Who needs Operation Talpiot when you can be next door?
**
March 25, 2018
SOS: Q-squared Delivers a Set of Serious Messages About the POTUS
"Bolton appointment proves that Trump is being blackmailed!"
— Q²
SOTN Editor's Note:
Many who follow this Alt Media platform know that SOTN has been receiving authentic intel from authoritative and high-integrity sources since 2010.  What follows is another excellent example of patriots in high places who are both in the know and who have great courage.  It simply doesn't get more radioactive than this.
The following deep insider's "intelligence briefing" was forwarded by a heretofore unknown entity who calls him or herself Q². (Q² is not "Q" or "Q Anon".  They are an entirely different intel entity.)  No doubt they chose SOTN because of a previous screed that we posted about John Bolton.  And, because of the following series of articles that have been posted at SOTN since Trump announced his appointment of the inveterate Neocon warmonger to National Security Advisor.  As follows:
---
Recent Posts
---
Now here's the real back story from Q².  Edits to Q²'s original submission have been made where necessary and/or appropriate.
---
Q² here:
Trump is being blackmailed—BIG time!
First, know that he only won the election with the help of Israel.
Israel needed a Christian Zionist in the White House.
Many reasons for this. Examples:
• Israel can only contain Iran with US military.
• Turkey can no longer be counted on to play the NATO game.
• Greater Israel project was hugely thwarted by Putin.
• Pipeline through Syria stopped.
• Netanyahu under serious threat of removal.
• Russian presence looms large in Northern Levant.
• Israel wants Russia's naval base at Tartus, Syria gone.
• Mideast geopolitical chessboard is a total mess
• Only an Israel firster can fix it for Tel Aviv (even though it can't be fixed).
Enter Zionist John Bolton.
And Neocon hardliner Mike Pompeo.
And CIA torture queen Gina Haspel.
And many other COERCED [and disastrous] appointments made by Trump.
Wicked Witch of the West Nikki Haley is the worst of them.
Guess who really picked her to be U.S. Ambassador to the UN?
Exactly—I S R A E L !
~ End of 1st message ~
---
Q² here:
Secondly, know that Trump has a seedy underbelly.
How could he not?
Anyone who spent his career as a NYC builder,
And a gambling casino owner and operator,
And a beauty pageant promoter–Miss USA, Miss Universe & Miss Teen USA,
And a global golf course developer, etc. would be vulnerable.
VERY vulnerable!
Just look at gambling magnate Steve Wynn in Vegas.  One week and he's gone—for good.
In each of his enterprises, Trump had "tremendous" (his fav word) exposure.
Especially to real bimbos. Who Trump liked.
But especially — ESPECIALLY — to MOSSAD honeytraps.
No one does it like the Israeli secret services.
That's how they got Clinton hooked up with Lewinsky.
Monica was a classic MOSSAD honeypot.
Netanyahu wanted Clinton to free Israeli spy Jonathan Pollard.
He wouldn't, so they trapped him off with a scandalous White House affair…
And then a torturous impeachment process.
~ End of 2nd message ~
---
Q² here:
Since day 1 Trump knew that the MOSSAD knows every dirty little secret.
There are many!  Some are quite dangerous to his presidency.
The most dangerous are held over his head like the "sword of Damocles".
Some lurid material was released to the public during the campaign as a warning.
There was even a British tabloid article — pre-election — about an alleged 'rape'!
That  particular story may be a total fabrication, but it's still out there on the net….
Ready to be blown up at any time by the MOSSAD blackmailers.
Now the X-rated content is being released to compel his compliance.
It comes in drips and drabs.
Every money-grubbing bimbo comes forward at a specific time.
Each sayanim operative or MOSSAD agent ratchets up the pressure to achieve a result.
In the beginning, the main message was to remind Trump who he really works for.
However, now the real game is on.
With each passing month since inauguration the POTUS must carry out his mission…for Israel.
That mission can only be accomplished by a Christian Zionist, real or perceived.
Trump was given a VERY long leash to strut his stuff.  He really is a nationalist.
In this way his handlers knew he would corral the patriots…which he did.
Now they want him to form an administration of hardcore warhawks.  Which he's doing.
All of this is to push the nation into a war posture.
~ End of 3rd message ~
---
Q² here:
The Stormy Daniels affair is being kept in the media spotlight for various reasons.
The public is being exposed to Trump, the philandering husband.
Now there's "Playmate of the Year" Karen McDougal.
If the directors of this Israeli psyop wanted to, they could parade many more.
This is how they do it.
They maintain a steady stream of bad press so that the victim is on edge.
They never know when the other shoe will drop.
However, in Trump's case, they have all the goods.
The most incriminating evidence, both real and fabricated, would end his presidency.
And he knows it.
This is how they keep politicos the world over dangling from a string.
Trump has had much interaction with younger women over his entire life.
He has been in countless compromising positions–literally and figuratively.
The MOSSAD owns his entire file.
Got it?!
~ End of 4th message ~
---
Q² here:
Remember, Trump would not have beat Hillary were it not for Israel.
Israel controls so much more than they are given credit and blame for.
The statewide voting systems are a cinch for those cyber-crackerjacks.
Once they put Trump in the White House, what else could be expected.
War … and more war…particularly for Israel.
The warmongering Likud Party will not rest until Iran is taken out.
And only the U.S. military machine can do that.
What you are now seeing is a steady drumbeat for war across the USA.
The warhawks are being brought back in by Trump to lead the charge.
These are the same chickenhawks under W. Bush.
They never saw an American war they didn't like.
Of course, none of them ever fought in a war either.
Trump has signed every defense appropriation because of this push to war.
He has mentioned the need to strengthen America's military every week.
He has stacked his key appointments since day one with flag officers.
Some of these are even on active duty.
Many of them you don't even know.
Nor do you know where they work in the West Wing.
The whole Executive Branch is being hardened for war.
If not a regional war in the Middle East, then the hot phase of WW3.
All of these war plans are being coordinated with NATO.
The UK is taking the lead as always.
Selected countries in the EU are also being prepped.
Germany, France, Netherlands, Belgium, Italy…all the usual militaries.
~ End of 5th message ~
---
Q² here:
How does Trump get out of this one?
They really do have him by the short hairs.
Trump is a peacemaker at heart.
His inaugural address speaks volumes about his truest intentions.
However, he underestimated the power of Deep State.
Trump also did not realize that he would have to sign a contract.
As the CEO of the U.S. Government, Inc., he was forced to sign the contract that every POTUS signs before they are sworn in.
Not only does the presidential candidate promise not to prosecute any former POTUS, VPOTUS, etc., they agree to many other unsavory things.
Any violation of said contract occurs on pain of death…or worse. [See Endnotes]
That's why Trump changed so much once he entered the Oval Office.
No person on Earth could resist the dictates of the Shadow Government.
This isn't City Hall, this is the U.S. Federal Government.
Now what can he do?
~ End of 6th message ~
---
Q² here:
Trump knows that he will lose his base if he starts a war.
Any war, and Trump is toast.
His constituents voted for a peacemaker, not a war-maker.
If he proceeds down the current path, his term will be ended.
Trump cannot fight both the Left and the Right at the same time.
If he betrays his base, he will never be re-elected.
If he fires one more missile in the wrong direction, he's history.
Trump knows this.
His team of patriots knows this.  So do the white hats.
His handlers know this, but they don't care….
Trump is expendable since they put Pence right next to him.
Pence will prosecute any war he's handed.
Trump knows this.
This is why he's between a rock and a hard place.
~ End of  7th message ~
---
Q² here:
Just because Israel put Trump into office doesn't mean that it was not a modern-day miracle.
After all, "God writes straight with crooked lines."
Yes, it's Israel that's very crooked.
Trump could only have gotten so far without the assistance of certain power-brokers and bankers.
How could he have won otherwise?
Nothing occurs in the White House without Israel knowing.
Actually, the Neocon Zionists know well in advance of any presidential initiative(s).
This is the way it's been since Kennedy.
And that's why every POTUS must sign the contract.
They don't want another JFK, and that includes Trump.
Which means that Trump will soon be forced to make decisions that violate his promises.
With the warmongers assembling quickly, they are on a serious mission.
~ End of 8th message ~
---
Q² here:
Spring 2018 appears to be their chosen time frame to stage a major conflict.
The warmongers are now out in force.
Just like the Iraq War, the same chickenhawks are squawking loudly.
First they used the Left and the media to incite a war against Russia.
Before that they used the Right to promote war on Iran.
All the while, the Zionists waged an apocalyptic war against Syria.
North Korea was thrown into the mix of dangerous regimes.
The same Neocon Zionist warmongers even conjured up a new "Axis of Evil".
Trump himself was used to trumpet "Iran, North Korea and Syria" as the greatest enemies of humanity.
Now he's expected to perform on his false and empty proclamation.
What's he going to do?
If he breaks the central campaign promises that got him elected, he's history.
Unfortunately, the Bolton appointment proves that Trump is being blackmailed.
Many other recent appointments indicate the same.
These bad actors are taking center stage for a specific reason.
Each of them will be used to provide Trump cover.
They will tell us the decisions to go to war are not his.
They are the best advice of his top advisors and military brass.
This is how they will march President Donald Trump to war.
And how he will be used to march America to war.
Whether Trump marches to the beat of a different drummer remains to be seen.
~ End of 9th message ~
The bottom line here is that the President Donald Trump is undoubtedly susceptible to blackmail and coercion.  This perilous vulnerability is clearly Trump's Achilles heel.  It's also why he was permitted his victory in 2016.
SOTN wrote about this stark reality back in January here:  'Stormy Daniels' Psyop: Why now and who's behind it?
This situation is much more serious than meets the eye.  The world is being set up for World War III as we write this.  Hence, every American is now obligated to act — with conviction and all deliberate speed — to prevent yet another Neocon Zionist war.
Everyone needs to very seriously consider that:
"Trump is being blackmailed!" — Q²
When this is surely the case, Trump needs the help of We the People more than ever.  He can't do this alone.  The American Republic can only be saved by the American people.  Trump has already done more to liberate the U.S. citizenry than anyone else in history.
Only the American people can shut down the U.S. war machine like the peace movement did in the 1960s, and the antiwar protests did in the 1970s.  In fact, the Vietnam War was the first war in recorded history that was terminated by a popular movement.
Let's get busy!
State of the Nation
March 24, 2018
Endnotes
Excerpt regarding the contract signed by every POTUS since President John F. Kennedy
"They will even go so far as to make Trump sign a confidential contract which they can, and will, enforce in any number of ways.  That contract includes a strict promise not to prosecute any former president for war crimes or any other high crimes and misdemeanors.   As a matter of fact, every single president since JFK has been forced to sign such a contract which is only broken on pain of death.
Furthermore, according to his contract, Donald Trump would essentially agree to following the dictates of the World Shadow Government so that the compromises as president would start to come fast and furiously … and fairly soon after his inauguration.  In other words, his biggest campaign promises will be broken and forgotten as though he never made them.(Source: Donald Trump Is In Serious Trouble…
…If He Really Is His Own Man)
___
Source:  http://stateofthenation2012.com/?p=97185
**
OpDeepState.com has learned Stormy Daniels signed 2 letters indicating she never had an affair with Donald Trump:
StateoftheNation.com reported: 
First, know that he only won the election with the help of Israel.
Israel needed a Christian Zionist in the White House.
On March 23, 2018 we reported that Cambridge Analytica was the vehicle by which Robert Mercer and Steve Bannon used Facebook data to help Trump get elected:  The Real Story of How Trump and Bannon Won the White House
We're saying candidate Donald Trump didn't know about this aspect of his campaign.  Remember when Trump turned down Jewish money during the 2016 election?
Video (mirrored) published on December 7, 2015 courtesy of Quang Le
**
Facebook and Cambridge Analytica – What has happened so far (Hacker News)
**
Donald Trump promised his supporters he would disclose who attacked America on 9/11/2001:
Watch the videos on Vimeo:  Donald Trump, 9/11, CASE CLOSED part 1
Donald Trump, 9/11, CASE CLOSED part 2
John Bolton is Henry Kissinger on STEROIDS!  NSA-designate John Bolton: Trump's most catastrophic appointment yet
**
TheGatewayPundit.com is reporting:
VIDEO: 'Deep State Whistleblowers' Form Supergroup To Expose Illegal Surveillance, Support President Trump
Former members of the 'Deep State,' have formed a supergroup to expose illegal government surveillance and support President Donald Trump. The group, led by William Binney, who was part of an 'elite NSA team which built an intelligence-gathering system to collect data on terrorism threats,' is made up of former Justice Department, FBI, and intelligence community officials that call themselves 'JTFMAGA.'
**
How to Take Action:
Everyone who voted for Donald Trump needs to step up and support him.  One way is to help President Trump remove INTERPOL's power over the Justice Department.  OpDeepState.com has provided a letter for your convenience.  The Senior Executive Service is only one level of the Deep State, and it's not the top level.  If we expect to see any indictments, we must aim for the top levels of control, which are AIPAC and INTERPOL.
Operation Justice
Come march with us Saturday April 7, 2018.
For more information please visit:  https://www.operationjustice.us/
There is also a 2nd Amendment march on Washington, DC on April 8, 2018: